A surfeit of Alan
Last night, I went to the Farnham Beerex — one of the country's longest-running beer festivals.
I went with Alan. And Alan. And Alan. Too many Alans for sanity, in fact: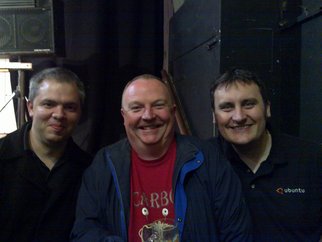 That's Mr Bell, Mr Lord, and Mr Pope. Beer, perry and cider were tested and pronounced upon. Popey even tweeted brief beer reviews (and a couple of music reviews). Sadly, I wasn't able to attend the curry at the end of the evening, as I had to catch a train (actually, several trains) back home. Still, a good time was had by all.